<< Back to Announcements
Calvin Ayre: How Bitcoin SV can help create a brighter future
By Press Release
|
07 January 2021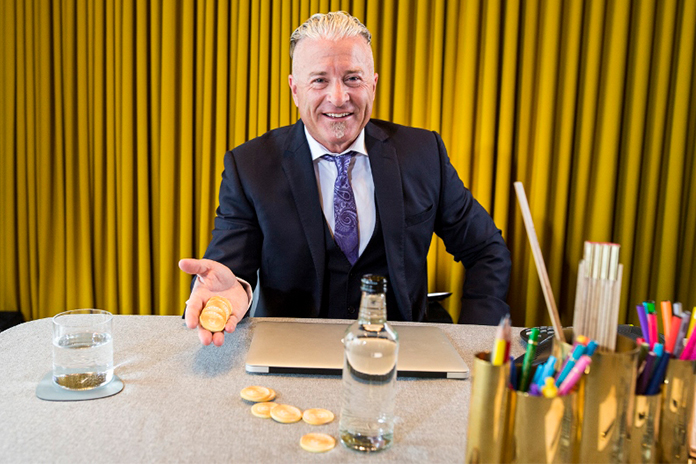 In the December 2020 issue of the Luxury Locations magazine (pages12-14), a stellar feature is presented on Special Economic Envoy to Antigua and Barbuda, Ambassador Calvin Ayre; which includes his vision, his views on the super powers of Bitcoin SV and its utility, and his plans for the future.
Visionary, entrepreneur, industry pioneer and philanthropist, are just a few adjectives that have been used to describe Calvin Ayre. The phenomenal backstory about his rise to billionaire status is definitely one for the books.
Born in 1961, Calvin credits his modest upbringing on his family's pig farm in rural Canada, for tempering his extraordinary ambition with humility and a heart for humanity, particularly the less fortunate.
From early entrepreneurial ventures such as fruit delivery and internet service provider, to revolutionizing online gaming, Calvin pursued every opportunity that presented itself with passion and determination.
Calvin's success and reputation as the leading man in the online gaming industry were firmly established in the early 2000's. His re-invention; transitioning from the Bodog online gaming brand to blockchain technology – specifically Bitcoin SV – illustrates his relentless inventiveness and ability to transform entire industries.
Through his strategic partnerships with Bitcoin industry leaders, Calvin now uses his various platforms, including CoinGeek.com, to educate the world – from major businesses, investors and policy-makers to the man-on-the-street – about the unique superpowers of Bitcoin SV.
We think this is the just the beginning of the epic second chapter to a phenomenal career, destined to be ranked among the best of the century.
The Digital Assets Business Bill has recently passed into law in Antigua & Barbuda. We understand that you were involved with the bill and its creation, are you happy with the outcome, what changes do you think will come in the future?
Yes, I am definitely happy with the outcome. Antigua's forward-thinking legislation was inspired by the Bitcoin SV blockchain and has the potential to usher in a new era of safe, credible and regulated digital asset businesses coming together to foster economic innovation.
I say that the legislation has potential to revolutionize the economic landscape because, in order to take full advantage of the legislation to foster economic innovation, while ensuring safety and credibility, Antigua and Barbuda must only support technology and a platform that works within the existing and coming legal frameworks of the free world, which is only possible via the Bitcoin SV blockchain. Other platforms and technologies seek anonymity and attempt to enforce their beliefs through rebellion, as opposed to through legal mechanisms, which cannot be tolerated in a functioning society. The foundations of these other technologies and platforms enable criminals to violate the law with impunity, which would create a system in Antigua and Barbuda that not only creates unworkable businesses that do not comply with the law, but a system that would enable terrorist funding and other extremely serious crimes. The Bitcoin SV blockchain does not allow illegal activities in any form and would facilitate an honest system that would allow this innovative legislation to achieve its potential on a global stage.
In terms of innovation, I believe the future will be driven by the tokenization of everything, all assets, and that means real assets too, not just digital. Similar to my views above regarding choosing the right technology and platform, in order to maximize the opportunities presented by Antigua and Barbuda's forward-thinking legislation, scaling and utility will be vital, which again is only possible on the Bitcoin SV blockchain. Other platforms do not scale and are focused on short-term results and fast money, which has created a market of worthless projects and tokens that have no utility other than pumping and dumping for profits, which has destroyed the personal wealth of honest people and will damage Antigua and Barbuda's economy. The Bitcoin SV blockchain is a massively scalable blockchain, with real utility, that will create a long-term and sustainable economy that has the potential to revolutionize the world.
Antigua and Barbuda's legislation lays the foundation but the Bitcoin SV ecosystem is what will allow Antigua and Barbuda and responsible businesses to realize the possibilities and opportunities of this innovative and unique network.
How will the bill affect businesses in Antigua and do you think it will stimulate an industry for crypto currencies based businesses to operate from Antigua?
As mentioned above, to affect businesses positively, realize real economic value and ensure Antiguan businesses are rooted in credibility, we need to ensure growth is fostered through innovative, safe and credible technology, which is only possible through the Bitcoin SV ecosystem. If the wrong platform is used, the amazing potential of this Act will not be realized.
The legislation has the potential to significantly stimulate the Antiguan economy as it provides a complete structure to govern a wide range of digital assets, which is not easily found in other jurisdictions. The Act is also intended to foster adoption and innovation through regulations that will encourage and make it easier for the citizens of Antigua and Barbuda to run responsible digital asset businesses, which will ensure we create a sustainable economic vision and future for Antigua and Barbuda.
We all need to do our part to ensure only the highest quality businesses are allowed to operate within our perimeter and the first line of defence is ensuring only businesses working within the Bitcoin SV ecosystem can take advantage of this valuable law. Not only will the Bitcoin SV platform uphold Antigua and Barbuda's reputation as a highly reputable jurisdiction, but it will solidify its reputation as a technological inspiration as only the Bitcoin SV ecosystem has the ability to scale and bring to fruition the full utility of the original Bitcoin protocol, and grow a system in which Bitcoin is used to change the world as Satoshi intended.
Have you applied for your license under the bill? How was the process for you?
Not only will I be applying for a license under the Act as soon as the regulations are finalized, but as part of my work with the government and as an Ambassador, Economic Envoy for Antigua and Barbuda, I feel it is my responsibility to bring reputable businesses to Antigua and Barbuda to help shape its future as the jurisdiction of choice for innovative and credible digital asset businesses. An example of one of these businesses is The Bayesian Group (Fabriik), a collective of companies operating in the fintech and digital asset market with a focus on solutions for a digital asset-based business world. It decided to build its businesses on the Bitcoin SV blockchain after evaluating other platforms, including, Ethereum, BCH and Litecoin, primarily due to the Bitcoin SV ecosystem's safety and security, low transaction costs and ability to scale, thus leaving the Bitcoin SV blockchain as the only viable and realistic base on which to build new and honest financial and exchange networks. Credible companies such as the Bayesian Group (Fabriik) will be vital to Antigua and Barbuda's growth as a global economic leader in the digital asset space.
You have invested significantly in real estate projects in Antigua. What are your plans for the next five years with respect to those projects?
Ayre Group's state-of-art headquarters, Canada Place, is a sought-after multi-tenant office complex, which is home to our various pioneering technology companies. It is now fully functional and capable of housing several companies and up to 600 persons.
I've just completed construction of my own home on the island, so now I am able to concentrate my efforts on the Ayre Resort luxury property brand. The first of several 5-Star Ayre Resort luxury properties around the world will be developed on the white sand beaches of Valley Church, on the verdant west coast of Antigua. Each Ayre Resort will offer guests thrilling moments in the Bodog Casino Club, relaxing beach clubs, world-class restaurants and a unique opportunity to enhance their lives by experiencing the Ayre Wellness Centre and Spa.
My hope is to attract visitors who are interested in experiencing the island's landscape and culture, as opposed to those who prefer spending their entire vacation in the confines of their hotel.
As Special Economic Envoy for Antigua and Barbuda, I fully support the Government's long-stay visa program designed for persons who can work remotely and are desirous of doing so from a safe Caribbean island.
I strongly consider the island to be a prime location for high net-worth individuals to be able to live and work. It is my hope that others, especially knowledge-based experts, will in turn, be motivated to invest and contribute to the diversification of the workforce, through a transfer of knowledge. The recent passing of the Digital Assets Bill, again, provides significant scope for such knowledge and skills sharing.
With one of the focuses of the Ayre Group being Real Estate, I have the capability of providing first-class accommodation, fully equipped with high speed internet and nearby to convenient amenities and, of course, the beach.
You have had an illustrious career in online gaming, crypto currency and now real estate projects, what does the future hold for Calvin Ayre?
My future is envisioned as a world I helped make a better place.
On the business front, I have always strived to play a pivotal role in developing industries that will benefit people and the economy. You may have noticed that I have a passion to grow and develop the Bitcoin SV landscape. As I see other platforms and technologies destroying global economic well-being, I will fight hard to develop an economy founded on innovation, honesty and doing things the right way, which can only be accomplished using the Bitcoin SV blockchain as an anchor. Part of this mission will be to continue to invest in companies that are contributing to a better world by growing the Bitcoin SV ecosystem.
As mentioned above, I am also focused on growing the economy of Antigua and Barbuda in other ways, such as through the development of a new resort that will focus on health and well-being.
With respect to my philanthropic efforts, I will maintain and strengthen my commitment to The Calvin Ayre Foundation, which continues to make a difference and ensure that we leave the world in a much better place than we found it.
What advice would you give individuals who are interested in getting into or learning more about the industry?
To those interested in getting into or learning more about the industry, my advice is to avoid short-sighted platforms that damage economic and social welfare and instead educate yourself about the Bitcoin SV blockchain, as it is the original Bitcoin protocol and only platform that realizes Satoshi's intentions to transform our world.
Where is your favourite place in Antigua and why?
My favourite area of the island is the entire west coast; from Pearns Point, south to Turners Beach. My home atop Ayre Estate Hill, has a breathtaking view of the entire area. You just can't beat the natural beauty, calm, warm Caribbean waters and the relaxing lifestyle.
For more information, visit https://bitcoinsv.com/en or www.ayre.group.com
<< Back to Announcements