<< Back to Announcements
CalvinAir Helicopters assisting with monitoring St. Vincent volcano
By Press Release
|
14 February 2021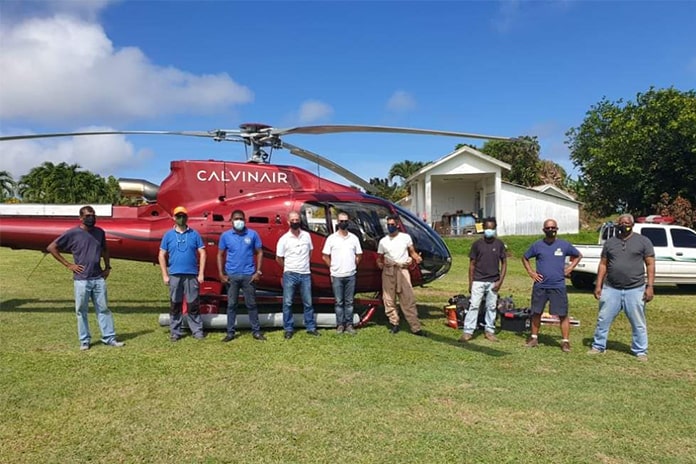 The post originally appears on https://antiguanewsroom.com/calvinair-helicopters-assisting-with-monitoring-st-vincent-volcano/ and we republished with permission.
The Caribbean Disaster Emergency Management Agency (CDEMA) Coordinating Unit, has selected CalvinAir Helicopters (CAH) as the top helicopter operator in the Caribbean to carry out the work of assisting scientists with monitoring the La Soufriere volcanic activity in St. Vincent and the Grenadines.
According to a recent agency report, this support is extremely urgent to allow the scientists to analyze the data and present to the government of St. Vincent and the Grenadines an informed interpretation of the current volcanic events.
It is against this backdrop that CAH was selected to assist the team with this undertaking, and will be responsible for providing The University of the West Indies (UWI) Seismic Research Centre's (SRC) scientists with helicopter services for a period of seven (7) days, and then on an "as needed" basis.
According to CAH's Director of Aviation, Mark Fleming, the decision was made after considering several other regional helicopter operations. "One of the requirements was to secure pilots with extensive mountainous terrain flying, as the peak is over 4,000 feet.
So it can be quite challenging with the strong winds at that altitude.
Additionally," he added, "CalvinAir Helicopter pilots actually have extensive experience with flying for the Montserrat Volcano Observatory (MVO) with a scientist there. So we will be doing very similar flying on this mission; conducting observation flights around the dome; transporting equipment and supplies to monitoring sites; transporting the seismic research scientists and trying to find safe landing spots, where they will be able to set up and maintain their remote monitoring stations to analyze data."
According to Fleming, the Antiguan-based helicopter operation conducts tours and charters around Antigua and Barbuda and surrounding islands.
"As well," he said, "we'll do more humanitarian work with Medevac flights as well as search and rescue and emergency missions like these, with the Montserrat Volcanic Observatory and now St. Vincent."
The operation's aircraft are stateof-the-art and not seen before in the Caribbean region. The Airbus EC130 is known to be the gold standard in helicopter aerial touring machines.
In addition, the style of its tail rotor reduces outside noise by up to fifty percent, earning it the nickname "ECO-Star".
"CalvinAir Helicopters is the best of its breed in all-purpose helicopter operations," said Calvin Ayre, owner of the company. "I am extremely proud of what our team has put together.
We can offer services across the spectrum, from search and rescue or medical airlift."- POINTE EXPRESS
<< Back to Announcements