<< Back to Articles by Calvin
Calvin Ayre receives one of Antigua's highest public awards
By Guest Contributor
|
19 November 2019
This article was originally published on CoinGeek on November 19, 2019.
One of the top awards issued by the government of Antigua and Barbuda has been presented to Calvin Ayre. The philanthropist and entrepreneur was awarded the Faithful & Meritorious Service Cross Award last week in recognition of his continued efforts to support the country and be a leader in its national development.
Ayre was presented the award by the Governor General of the Caribbean nations, His Excellency Sir Rodney Williams, in a ceremony at the governor's official residence last week. The award had previously been announced this past July and covers four different categories. The Cross, considered to be the most prestigious of the four, is given to an individual who has had a direct and positive impact on the improvement of the country's domestic position.
The award was given due to Ayre's extensive charitable participation in the country. He sponsors a number of local charities, including the Halo Foundation, which is the name given to an organization that supports three dozen charitable groups across the country. Ayre was also singled out for his assistance in providing relief efforts after Hurricane Irma attacked Antigua and Barbuda in 2017.
Ayre realizes that he has been given the opportunity to help improve lives in countless ways and continues to live by that creed. He said during the award ceremony that his philosophy is simple, explaining, "[Anybody] that's been fortunate to have success in their life should give back to those less fortunate." He added that others who have found success should follow his lead because "we are all in this together."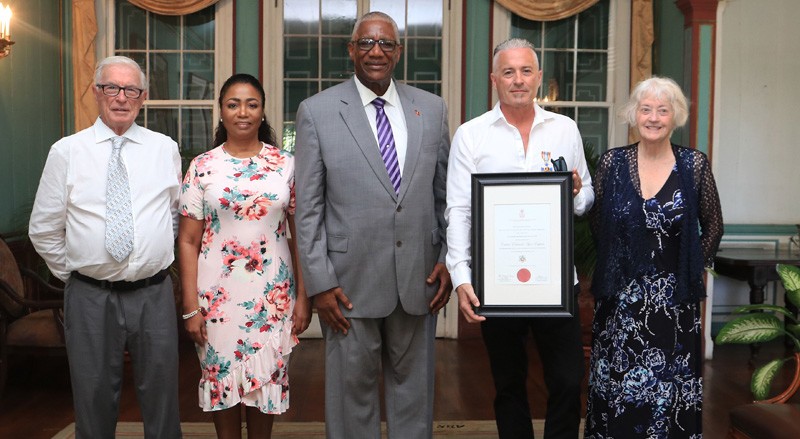 Ayre had incredible success with the Bodog online gambling brand before retiring and transitioning to blockchain and Bitcoin. Two years ago, he became a Special Economic Envoy in Antigua, tasked with providing guidance in an advisory capacity for economic cooperation between Antigua and Barbuda and other sovereign nations that are adopting blockchain technology.
He added during the award ceremony that his success came from targeting industries that interest him and telling entrepreneurs to find their niche, something about which they're truly passionate. He asserted that, when you do, "it doesn't feel that much like work."
<< Back to Articles by Calvin