<< Back to Articles by Calvin
CoinGeek Backstage with Calvin Ayre: BSV entrepreneurs are now proving Bitcoin works with their applications
By Guest Contributor
|
19 July 2022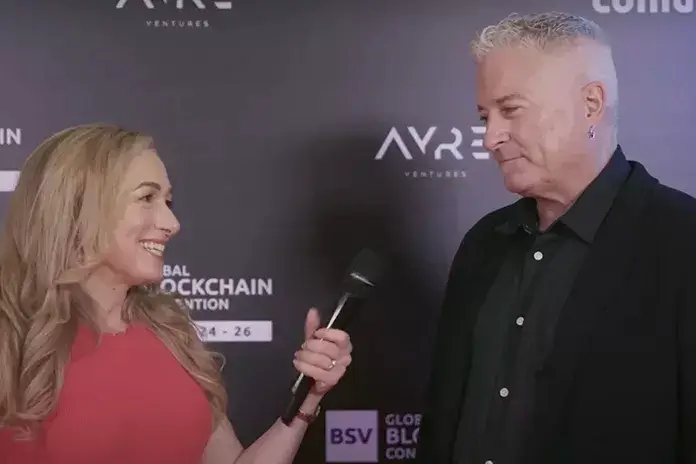 This article was originally published on CoinGeek on July 19, 2022
The Bitcoin SV ecosystem is coming of age. Unlike in the past few years when most developers were just sharing their dreams, plans, and visions, this year has seen more entrepreneurs showcasing their applications and what a massively scaling blockchain can do, and as Calvin Ayre noted, BSV is only just getting started.
CoinGeek Backstage host Becky Liggero caught up with Ayre in Dubai on the sidelines of the BSV Global Blockchain Convention. Ayre, the founder of Ayre Group and CoinGeek and the producer of the BSV Global Blockchain Convention, talked about how Bitcoin SV has matured over the past few years, IPv6, the future of Bitcoin, and more.
"What I'm liking is that unlike a few years ago when the companies would be up there talking theoretical, now people are up there talking about how long users have been using their products. BSV applications are getting out into the world and that's an important step for us," he noted.
The BSV Global Blockchain Convention saw several companies and developers take to the stage to share their progress so far, with many revealing groundbreaking partnerships and integrations that are transforming entire sectors. This is in line with the tenets of BSV, which lie in real-world applications and not just hype and speculation.
This growth is critical for BSV, Ayre, who's a prolific investor in BSV startups, noted. With the world of digital currency using blockchain technology, it has tainted the image of the technology to the point that most people think of speculative trading when they hear blockchain. The Dubai event was just as important as it helped shine a spotlight on the actual applications that are being built on BSV, which are already being used worldwide.
"…at least people are finally figuring it out," Ayre pointed out.
One of the themes that arose in the Dubai event was Internet Protocol version 6 (IPv6), which has recently become a hot topic of conversation in the tech world. As Dr. Craig Wright has revealed previously, he built IPv6 into Bitcoin originally, but it was stripped out when he left the project with other developers. However, through Bitcoin's rebirth as BSV, Dr. Wright is out to right the wrongs and finally have IPv6 integrate with Bitcoin to form the Internet of the future.
As Ayre noted, seamless payments are critical to IPv6. For a long time, micropayments on the Internet haven't been possible, "then lo and behold, Craig figured it out and we have BSV and nanopayments which are crucial for IPv6 to work properly."
The Dubai event was the first of its kind in the Middle East and saw massive interest from the region, from developers and entrepreneurs to investors and government officials. Ayre revealed that holding the event in Dubai was strategic as the region has seen massive interest in blockchain technology in recent years.
"One of the attractions here is that you've got governments like here in Dubai and in Saudi Arabia that have a lot of money and pride themselves on being on the leading edge with new technology. The spirit to experiment is high in this region. We're here because streamlining government is a big part of where we think this technology can be helpful to humanity."
Having organized the largest Bitcoin event yet in Dubai, Ayre is already thinking about the next one, and as he revealed, it will be back in London. It will be even bigger and will now be a five-day event to allow the Bitcoin community to network more and learn from each other.
Watch the BSV Global Blockchain Convention Dubai 2022 Day 1 here:
Watch the BSV Global Blockchain Convention Dubai 2022 Day 2 here:
Watch the BSV Global Blockchain Convention Dubai 2022 Day 3 here:
<< Back to Articles by Calvin